Excess Flow Valve Notice
Notification Purpose
In accordance with a newly effective Federal regulation, Hughes Natural Gas, Inc. is required to notify all eligible customers of their right to request an Excess Flow Valve (EFV) installed on their existing natural gas service line. Hughes Natural Gas, Inc. has installed an EFV on all new service lines constructed since January 2007.
What does an EFV do and not do?
An EFV is a mechanical device on the service line designed to stop the flow of gas between the main line and the customer meter in the event the service line is damaged. The flow is stopped when the EFV recognizes a sudden change in gas flow across the valve, usually caused by excavation-type damages. The potential benefit is to reduce the risk of fire, explosion, and/or injury to those in the vicinity. An EFV is NOT designed to stop flow for small (pinhole) leaks in the service line, nor for any leaks beyond the customer meter (i.e. home gas piping or yard lines for appliances).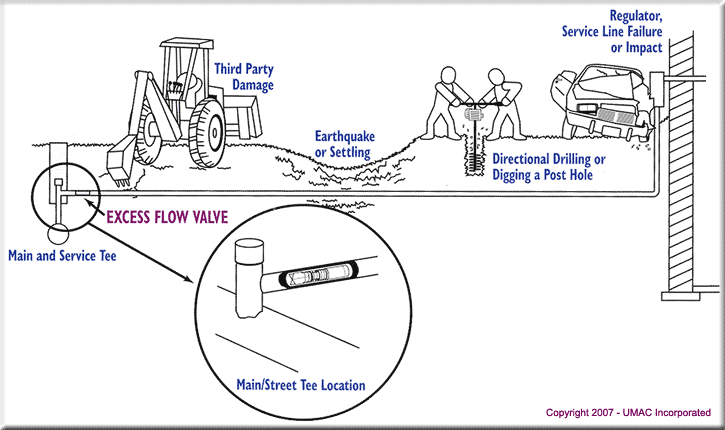 Who is eligible for an EFV?
The new regulation allows for all existing customer service lines for single or multi-family residences and small commercial customers that do not exceed 1,000 standard cubic feet per hour of gas flow to be equipped with an EFV. If you request an EFV, we can inform you if your service line was constructed prior to January 2007.
EFV Installation
If you wish to have an EFV installed on your service line, please call our office during normal business hours of 8:30am-4:00pm (M-F) at 281-766-1290. We will then work to determine whether you already have an EFV, do not require an EFV, or will mutually agree to a date of installation. The typical cost of installation will be approximately $750-$950 (labor and materials); but final costs will vary depending on soil types, obstructions (landscaping, driveways, etc), or other unforeseen difficulties. If your EFV malfunctions, or needs to be replaced due to life of service, Hughes Natural Gas will replace that EFV at no cost to the customer. If the customer requires a higher demand of natural gas volumes, any redesign in service lines and/or EFVs will be the financial responsibility of the customer.